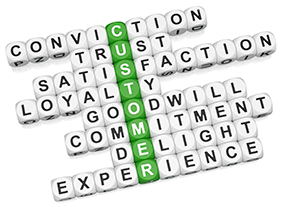 At Patterson Graphics, we love what we do. The passion we have for our work enables us to become a true partner with our clients and their projects, providing insight, ideas and opportunities. Since 1976 we have built our business around delivering the highest quality products and service possible.
There is no greater satisfaction than delivering a finished product that helps a client reach their goals and objectives.
To learn more about the Patterson Graphics' approach to customer service, follow the provided links for more information.
---
Our Commitment to You
The Patterson Graphics team is committed to exceed your expectations by providing you with the highest-quality products and services possible in a timely fashion and at a competitive price. We promise to listen to you and help you achieve your business goals. We will always be there with honest, expert advice and quick, friendly customer service.
But most importantly, our goal is to become a knowledgeable part of your business so that we can provide insight, recommend new ideas and approaches to your marketing and general business projects, and help you improve your bottom line.
---
Guiding Principles
Patterson Graphics has been helping businesses look their best since 1976 by combining innovative ideas, leading edge equipment and technology with the ultimate in personal service and value.
Although we began our business to serve the needs of the Burbank and Southern California health food label industry, we have since expanded to encompass the entire spectrum of commercial graphics and printing, from simple single color work through stunning full color pieces.
We will continue to evolve as a diversely skilled, fast-moving team of professionals ready to learn from each other and meet whatever challenges our clients may face. We launched this cutting-edge Web site to make it easier for our clients to request estimates, place orders, check proofs, or transfer files online. We hope you find it as helpful as we do.