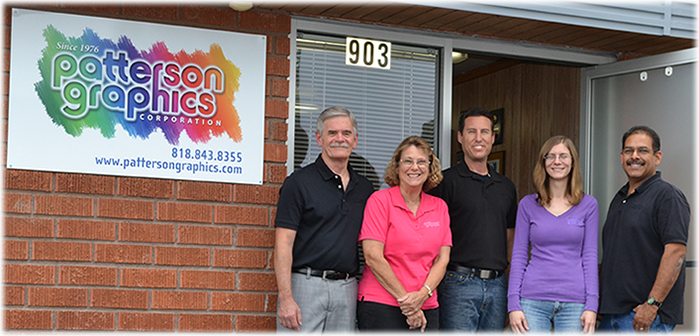 Although we're justifiably proud of our Award Winning products, services, and technology, nothing matches the pride we have in our staff. You see, we learned long ago that we're really in the business of building relationships. For that reason, we put a premium on hiring only the most qualified individuals to become a part of the Patterson Graphics team.
Every person on our staff is committed to providing excellent customer service and producing high-quality products and services. As you work with us in the future, we're confident that you will not only find this to be true, but see it reflected in the products and services we provide you.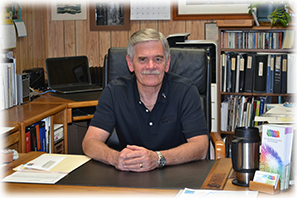 Patrick Patterson . . .
. . . started Patterson Graphics in 1976 after a career in the health food manufacturing industry, both as the in-plant printing department manager, and operations manager for the company. His printing background goes even further back, as his father owned a small shop in Burbank which supplied much experience – and even some gasoline money during the high school years. Pat's love of printing and his native Burbank are evident in the standards he established for his business, and the many recognitions Patterson Graphics has received over the years. He handles all of the estimating, order entry, and like everyone else, jumps into production where needed.
pat@pattersongraphics.com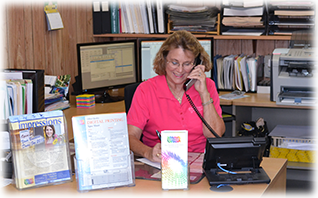 Laurie Patterson . . .
. . . loves working with numbers and accounting, and has been Patterson Graphics' CFO from the beginning. She also maintains all of our sample files and job records, and is the beginning of our quality control process making sure that the correct job sample goes with each new order. Laurie can also be found in the bindery area lending a hand wherever it is needed. She has a knack for spotting potential production issues before they occur and resolving them.
laurie@pattersongraphics.com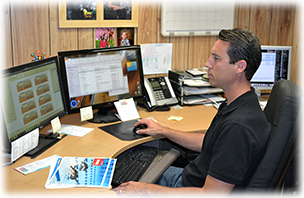 Ryan . . .
. . . is our Production Manager and technical genius, making files work, achieving the "impossible" color match between digital and offset, and in general making sure that all of our processes come together to provide a superior product on every job. He has been with Patterson Graphics for 17 years, working in all pre-press, digital press and bindery areas, as well as production scheduling and management, and was instrumental in helping us add digital technology to our existing offset process.
ryan@pattersongraphics.com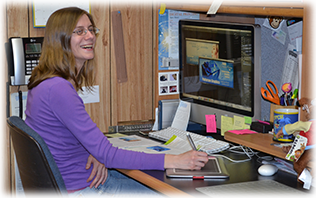 Christina . . .
. . . is our outstanding Graphic Designer and pre-press technician. Her eye for color, design elements and sound advertising layout have provided many of our customers with superior marketing pieces that have resulted in new business for them – and have even earned awards for Patterson Graphics! Christina holds a Bachelor's degree in Graphic Design with an Associate degree in Graphic Design and Printing Technology – but you can also find her helping out in any production area that needs an extra pair of skilled hands.
christina@pattersongraphics.com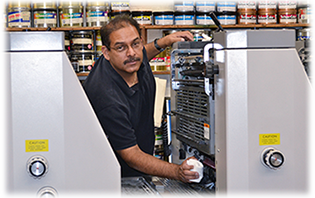 Ruben . . .
. . . makes our press area hum, our customers look great, and has eyes like a hawk when it comes to final copy check. He also has a keen eye for color match, and is never satisfied until he has achieved the optimum color and quality on every piece he runs. He brings his offset background and knowledge to the digital press, and is not satisfied until the digital job looks as good as offset. Ruben has been with Patterson Graphics for 24 years, working in all production areas from offset and digital press through bindery.