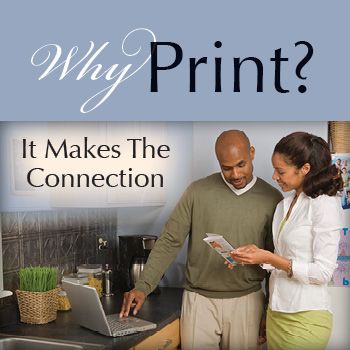 Print . . . It Makes the Connection . . .

. . . between you and the recipient . . . in a way that only printed material can. When properly designed and created, it's warm, inviting and permanent . . . and we can create and produce that properly designed piece . . . or a complete campaign. Compare that to the cold email where a 2% open rate is considered a success, and where the delete key is more often the end of the message! Consumers hold on to printed materials that interest them, often for many weeks. Plus they are frequently shared by multiple members of the household – making your connection even more valuable.
It's the Connection your customers use most! Many studies show that most decision makers use print at some point in their decision process and most importantly . . .
It Just Works! Print is still the most used media for effective marketing connections.